Dr. Bronner's Natural Soaps – Review and Uses
This page contains affiliate links, which means I may receive a small commission for purchases made through those links. This adds no cost to the reader and helps me keep the site up and running. Click here to read my affiliate disclosure.
---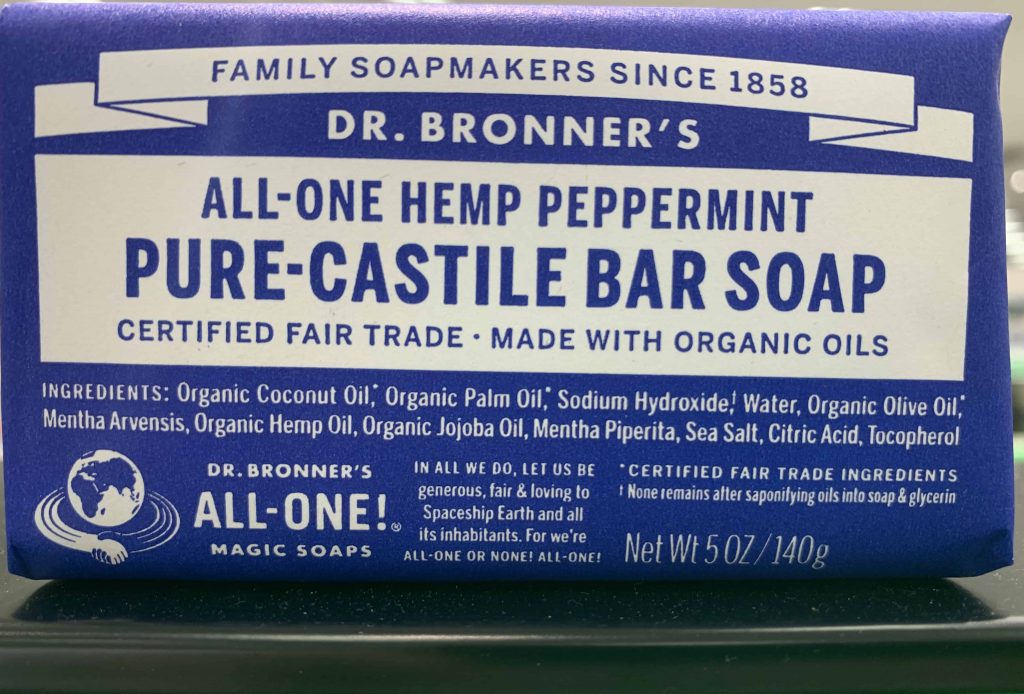 I've been using Dr. Bronner's Liquid Castile soap and Dr. Bronner's Sal Suds products for over 7 years. Let me tell you, I freaking love these products!
I first bought Dr. Bronner's because I was looking for a chemical-free, natural soap. I didn't want anything that would be harmful to my skin, health, or the environment.
What is Dr. Bronner's Natural Soap?
Dr. Bronner's is a natural, toxin-free, kosher, cruelty-free, high quality soap. It's been around for nearly 70 years and is the largest personal care company that is certified USDA Organic.
Dr. Bronner's has two major products available:
Dr. Bronner's Liquid Castile
Dr. Bronner's Sal Suds
Product #1: Dr. Bronner's Liquid Castile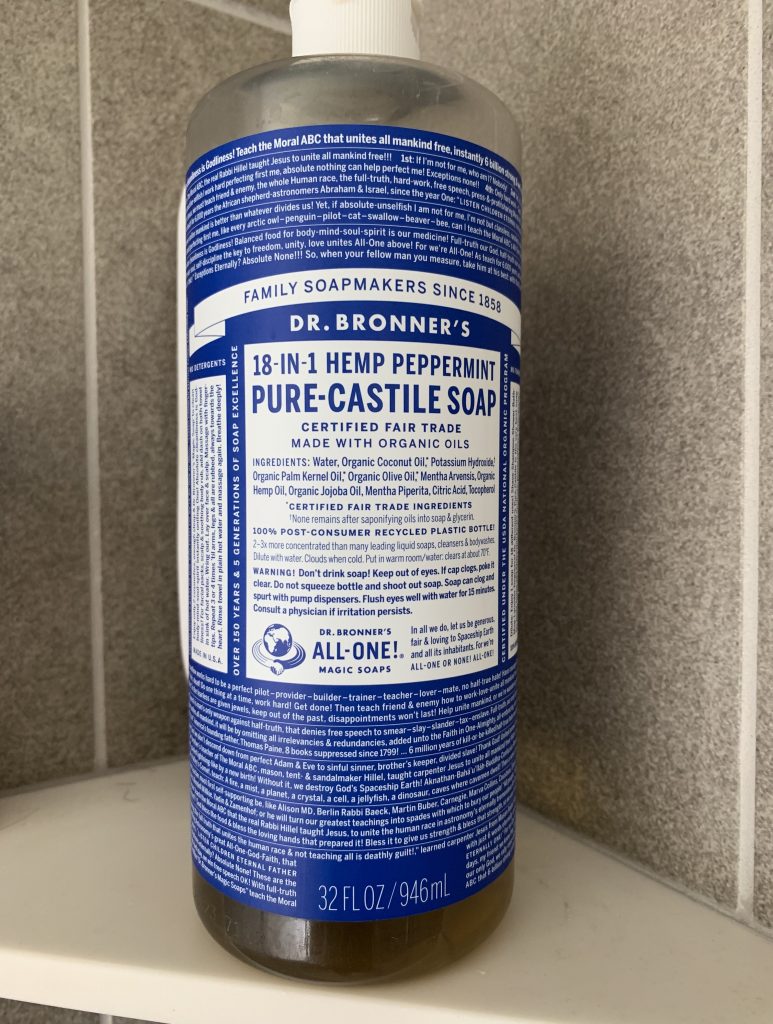 What makes Dr. Bronner's Liquid Castile soap so special? First of all, it is three times more concentrated than traditional soaps, which is great because it forces you to dilute it with water, making the soap last much longer. Second, the quality of ingredients. All major ingredients are organic and natural. Third and final, the liquid castile soap is extremely versatile, with many personal and household uses.
Ingredients
Water, Organic Coconut Oil*, Potassium Hydroxide**, Organic Olive Oil*, Mentha Arvensis*, Organic Fair Deal Hemp Oil, Organic Jojoba Oil, Organic Peppermint Oil*, Citric Acid, Tocopherol
*CERTIFIED FAIR TRADE INGREDIENTS
**None remains after saponifying oils into soap and glycerin
Uses
Over time, I discovered a variety of uses for the liquid castile soap. Below are the main ones I know of, and use on a daily (or periodic) basis:
Body Wash
Hand Soap
Shampoo
Toothpaste (tooth soap)
Fragrance Options
One really cool thing about the Liquid Castile soap is the different scents available. Options include: peppermint, almond, eucalyptus, citrus, and fragrance-free. I do notice (sometimes) that my private parts can be sensitive to the peppermint oil option, but it is not enough to cause me overt discomfort, as peppermint continues to be my go-to scent of choice. I love that clean, tingly feeling I get after bathing or showering with it.
Product #2: Dr. Bronner's Sal Suds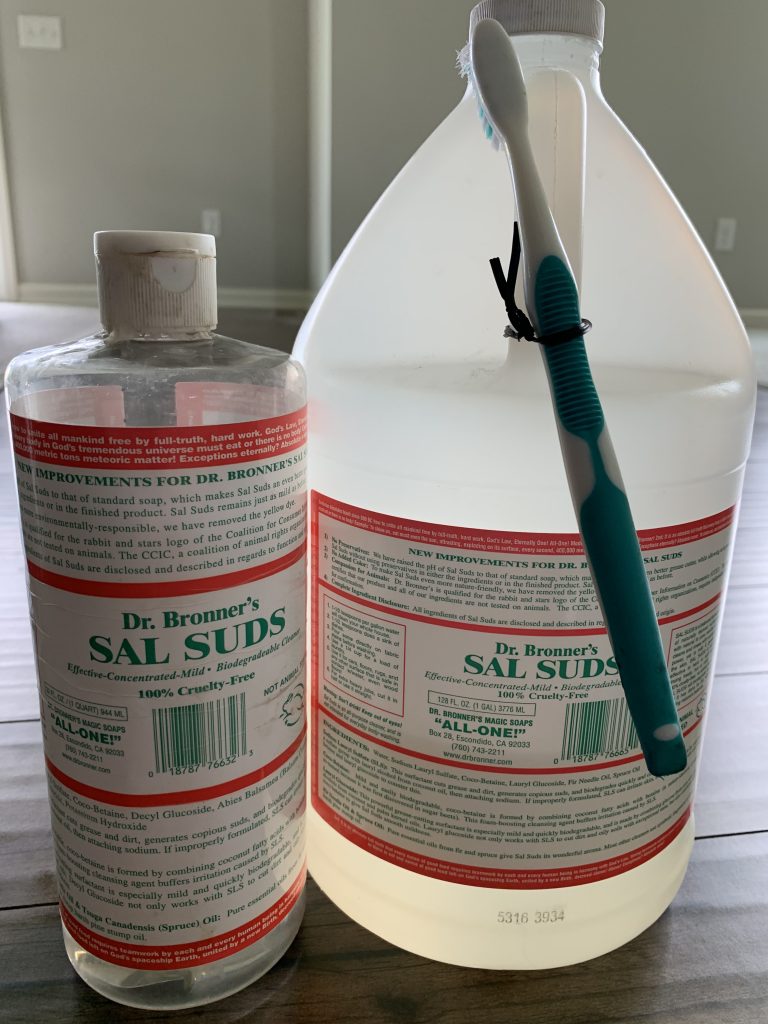 After getting into the groove of using the Liquid Castile, I experimented by using it for washing dishes, because I knew that Dawn Dish soap wasn't chemical-free. It – was – horrible. The Liquid Castile could hardly do the job. I was disappointed in the least.
So I went back to the interwebs, searching for a solution. Almost immediately, I stumbled upon the fact that Dr. Bronner's Sal Suds would do the trick, so I ordered some up right away.
Ingredients
Water, Sodium Lauryl Sulfate, Coco-Betaine, Decyl Glucoside, Abies Siberica (Siberian Fir) Needle Oil, Picea Glauca (Spruce) Leaf Oil, Citric Acid, Sodium Sulfate, Sodium Chloride, Potassium Hydroxide
No synthetic dyes, fragrances, or preservatives are used. The soap is also certified biodegradable.
FUNCTION AND ORIGIN OF DR. BRONNER'S SAL SUDS INGREDIENTS

Sodium Lauryl Sulfate (SLS): This surfactant cuts grease and dirt, generates copious suds and biodegrades quickly and completely. Previously SLS was conflated with SLES (Sodium Laureth Sulfate) which can be contaminated with trace carcinogenic dioxanes, but SLS has no such issues and cannot possibly create nitrosamines. Studies have consistently shown that SLS is safe to use in low concentrations and in products that are meant to be rinsed off (both are true of Sal Suds).

Coco-Betaine: Mild and easily biodegradable, coco-betaine is formed by combining coconut fatty acids with betaine (a nature-identical synthetic so named because it was first discovered in sugar beets). This foam-boosting cleansing agent buffers irritation caused by SLS.

Decyl Glucoside: This powerful grease-cutting surfactant is especially mild and quickly biodegradable, and is made by combining glucose from corn with fatty alcohols from coconut and palm kernel oils. Decyl glucoside not only works with SLS to cut dirt and oily soils with exceptional ease, but also combines with coco-betaine to give Sal Suds smooth mildness.

Abies Siberica (Siberian Fir) Needle Oil and Picea Glauca (Spruce) Leaf Oil: Pure essential oils from fir and spruce give Sal Suds its wonderful aroma. Most other cleaners use synthetic fragrances or cheap harsh pine stump oil.
Uses
Here is a list of all the things I use Sal Suds for:
Washing Dishes
All-Purpose cleaner
Washing fruit and vegetables
Removing stains (spot treatment)
Laundry Detergent
My First Experience With Dr. Bronner's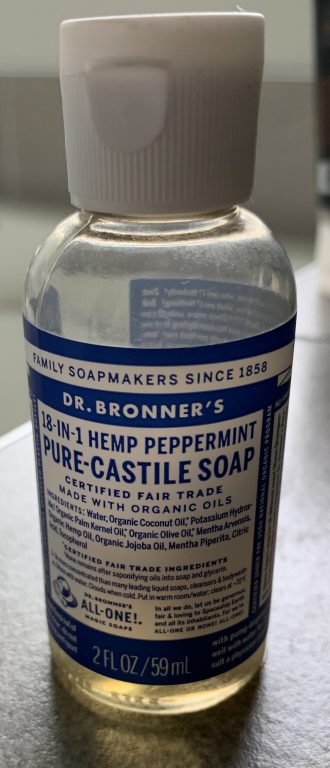 Back in 2012, my first exposure to Dr. Bronner's happened on accident. When I was still living with my parents, my Mom hadone of those small 2oz travel-size Dr. Bronner's liquid soap bottles. At the time I was looking for toothpaste alternatives, and after researching natural toothpaste options online, I learned that Dr. Bronner's could be used as toothpaste! So – naturally – I immediately decided to give it a try.
As Tooth Soap
This literally gives new meaning to the phrase "go wash your mouth out with soap." For the first time ever, after years of threats of doing so from my parents, I actually willfully washed my mouth out with soap!
Lessons learned from using this cute little 2oz travel bottle as a toothpaste:
You only need a drop on your toothbrush. At first, I put too much on and it was WAY to soapy. After that, I put only one drop on and that was enough. You have to remember, this soap is concentrated and meant to be diluted in water.
You are left with a clean mouth. It's soap, duh! It's designed to clean away food and bacteria that has gotten in there. But I am a little leary that the soap is perhaps killing too much here and possibly doing more damage than good.
You are left with fresh breath. The peppermint oil in the soap gives your mouth a fresh, minty feeling and smell.
The inner walls of your cheeks sort of "shed" a several hours later. This is quite the strange occurrence, indeed. It reminds of of peeling skin if you get a sunburn. You'll just be sitting there and then a small area will just become loose, you'll tongue it, and then be able to spit it out. To this day, I do not understand how this happens.
After months of using this soap as an alternative to toothpaste, I started expanding my use of the soap. I quickly discovered that it could be used for bathing, shampooing, and even for dishwashing.
As Hair and Body Soap
I moved out of my parents house and into an apartment back in 2013. I remember going to a party once, and while in the bathroom I peered into the shower (don't worry, the curtain was already drawn back, I swear!) and noticed a lonely quart-sized bottle of Dr. Bronner's liquid soap. At the time I hadn't made the connection to the little 2oz bottle I used the other year at my parents.
It wasn't until months later, when I was looking for a new soap – after trying many alternatives – to wash my skin and hair that I realized – low and behold – the bottle at the party was none other than Dr. Bronner's Liquid Castile soap!
Truth be told, before trying Dr. Bronner's Liquid Castile soap for my body and hair I experimented with baking soda as a shampoo and apple cider vinegar as a conditioner. And for my body, I tried the "no poo" method, which essentially required rinsing on a daily basis, but not using actual soap.
Turns out my scalp wholly rejected the baking soda concept. For me it was damaging, as I was flaking all over the place. I started researching natural ways to combat dandruff. This led me to Grandpa's Pine Tar Soap, which I actually really liked, but my girlfriend at the time thought otherwise. It smells very much like a campfire.
This soap really is the ultimate soap of extreme manlinesss, and to be honest I might go back to it merely due to it's sheer badassery. After all, this soap did help reset my scalp health and helped with the dandruff, but nevertheless, as the story goes, I continued looking for alternatives for my hair.
I eventually came back full-circle and landed on Dr. Bronner's Liquid Castile soap for both hair and body. I bought quart-sized bottles and really liked the simplicity of the method. I supplemented by buying Dr. Bronner's Organic Hair Rinse (as a conditioner), and Dr. Bronner's Organic Hair Creme (for styling).
How To Use Dr. Bronner's Liquid Castile Soap as a Body Wash and Hand Soap
This is fairly straightforward. You can use it straight by lathering it up in your hands, or you can use a washcloth or loofah (my personal preference). A loofah is great because it further maximizes how long the soap lasts, due to how well it lathers the soap, requiring minimal amounts of the concentrated soap.
As a hand soap, I began by using a foam dispenser with the soap. It's brain dead simple and a no-brainer.
Acquire a foam dispenser
Fill it approximately 95% with water
Fill the last 5% with Dr. Bronner's Liquid Castile soap
Close and enjoy
Depending on the size of the dispenser, this will last you months.
How To Use Dr. Bronner's Sal Suds Soap For Washing Dishes
Mark my words: Dr. Bronner's Sal Suds soap is the holy grail of dishwashing. I kid you not. It is seriously a product that has come down from the heavens. And best of all, washing dishes is only a small part of the many uses for this amazing soap.
What I love about Sal Suds is it's wonderful scent. It has a nice pine scent, and is the only scent available, but I totally am obsessed with it.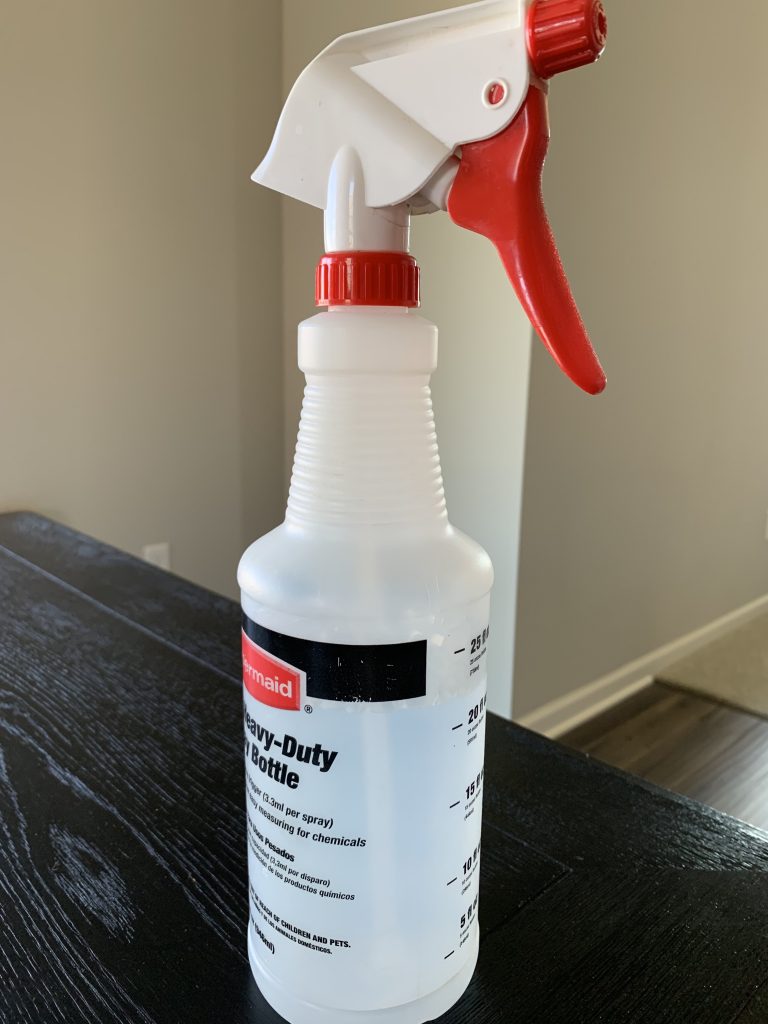 This is the exact bottle I have been using for years – since 2013. I bring it camping because it's biodegradable and it works really well for portable washing of knives, pans, silverware, etc.
My favorite way to use Dr. Bronner's for washing dishes is to add it to a spray bottle. I'm still using a heavy duty rubbermaid spray bottle, which I cannot recommend enough. While it may not be the sexiest bottle, it has lasted me years. While I understand that using a spray bottle isn't the most glamorous way of doing dishes (I still haven't been able to convert my parents yet), I simply love how little water and soap it requires. What I also love is you no longer need to fill a sink full of soap and water, and you can take the bottle with you (around the house, camping, etc).
Step 1. Fill bottle up 90-95% with water. It is important that you do this step first, otherwise if you try to add water last, you will have a tough time dealing with all the soap bubbles. I would also recommend using cold water, because hot water will cause the bottle to temporarily deform after you close it, making it difficult to achieve the ideal spray pressure.
Step 2. Fill half of the remaining up with Sal Suds, leaving the last half empty. Over time, you will learn just how much soap you like/need. Obviously, if you don't add enough concentrated soap, you won't get enough suds when spraying on your dishes. Likewise, if you add way too much, you'll be wasting soap. One thing you will undoubtedly notice if you use the spray bottle method is that after spraying it, small particles get into the air and into your lungs and could cause you to cough.
I contacted the company about this, and here is what Lisa Bronner had to say:
Hi Nick – It makes sense that some of the Sal Suds solution might become airborne, and certainly your lungs would object to breathing it. Another option is to use a squirt bottle (with a flip top lid instead of a spray bottle) and put the solution in there. I use an old Sal Suds bottle for this. The solution does not become airborne that way.

All the best,

Lisa
I have continued to use a spray bottle, and have perfected the method, but I still suffer from a cough or two during each dish washing session.
How To Use Dr. Bronner's Sal Suds Soap For All-Purpose Cleaning
I use the same spray bottle I use for washing dishes for general all-purpose cleaning. It's incredibly handy. I'll even use it to clean toilets, wash walls, counters, floors (hardwood floors as well), cars, pretty much anything really.
"Veggie Wash" – Washing fruits and vegetables
Many grocery stores sell dedicated soaps for cleaning produce that is sprayed with harmful chemicals, pesticides, waxes, or simply has dirt leftover from the crop harvest.
According to Lisa Bronner, you can also use the castile soap if you are not in need of removing wax:
I generally go to the Castile soaps for washing organic produce, but if I'm washing waxed produce, I'll use the Sal Suds, which is better at cutting through that food grade wax on apples and such. The Castile has the added benefit of being able to kill aphids or other stowaways, so if I have some leafy greens with passengers, I go for the Castile.
Spot Treatment For Stains
Sal suds works very well to remove stains. What I do is squirt a drop out of the quart bottle directly onto the stain, or directly onto a toothbrush. Then I spray some water on the stain and gently scrub. Depending on the stain, I may need to reapply more soap and water.
Laundry Detergent
When I used Sal Suds for doing laundry, I noticed that my clothes wouldn't always come out clean or fresh smelling. On Lisa Bronner's website, I learned that it is less effective with front loading, commercial high-efficiency (HE) machines, so perhaps that is what happened to me. Here's a link to her recommendations for non-HE use: http://www.lisabronner.com/sal-suds-in-the-laundry.
Where Can I Buy Dr. Bronner's?
This is not a comprehensive list but the following stores do carry Dr. Bronner's:
Amazon
Target
Walmart
ThriveMarket
Whole Foods
Fresh Thyme
For the Liquid Castile, I strictly buy the quarts. I have used the bars, but I prefer using a loofah, and by buying the liquid bottles, I can transfer them to the smaller bottles for travel, and to my foam dispensers easily for hand wash.
For Sal Suds, I always buy a big gallon jug and then transfer into an old quart-sized (32oz) bottle of the biodegradable cleaner if I can, for ease-of-use. I do this so I can more easily pour the soap into my heavy duty spray bottle, which I also recommend as a companion purchase with the sal suds, which I sometimes pour into a hand foam dispenser next to the sink (we sometimes use this as a backup for dishes, but mainly for greasy hands when handling oily pans or greasy raw foods).
I also like using the quart-sized bottle for sqeezing directly onto clothes for spot treatments. This is where having an extra toothbrush comes in handy.
Summary
This is everything I use Dr. Bronner's for:
Bath and Body
Body Wash – Dr. Bronner's Liquid Castile
Shampoo – Morrocco Method Apple Cider Vinegar (occasionally Dr. Bronner's Liquid Castile)
Household
Hand Soap – Dr. Bronner's Liquid Castile
Dish Soap – Dr. Bronner's Sal Suds
All-Purpose Cleaner – Dr. Bronner's Sal Suds
Laundry Detergent – 7 Generations (Whole Foods)
Dishwasher Detergent – 7 Generations (Whole Foods)
How Do You Use Dr. Bronner's?
I'm sure there are many creative ways to use Dr. Bronner's, so please share below by leaving a comment. Or just let me know if this post was helpful, or if you are already using Dr. Bronner's, tell me your preferred scent and why it's your favorite.